Valentine's Day is right around the corner and I just LOVE using candy hearts as part of our classroom valentine activities. These hearts are great to work on counting, sorting, and graphing. Today I have a fun STEM activity to share with you that uses a box of these hearts and helps kiddos to work on the idea of building and balance.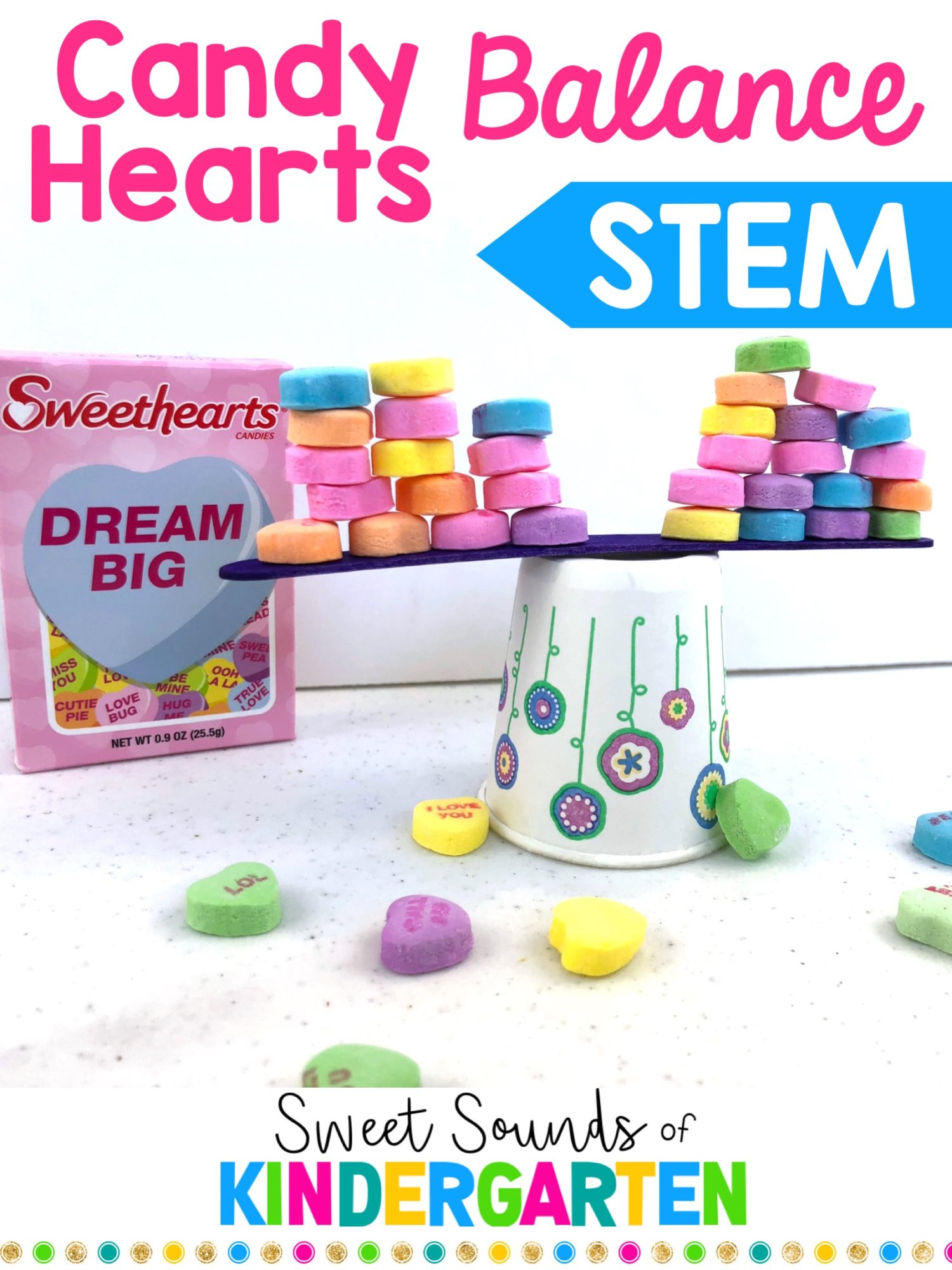 LET'S PREP!
To get this activity ready for my kiddos, I needed popsicle sticks, dixie cups, and boxes of candy hearts.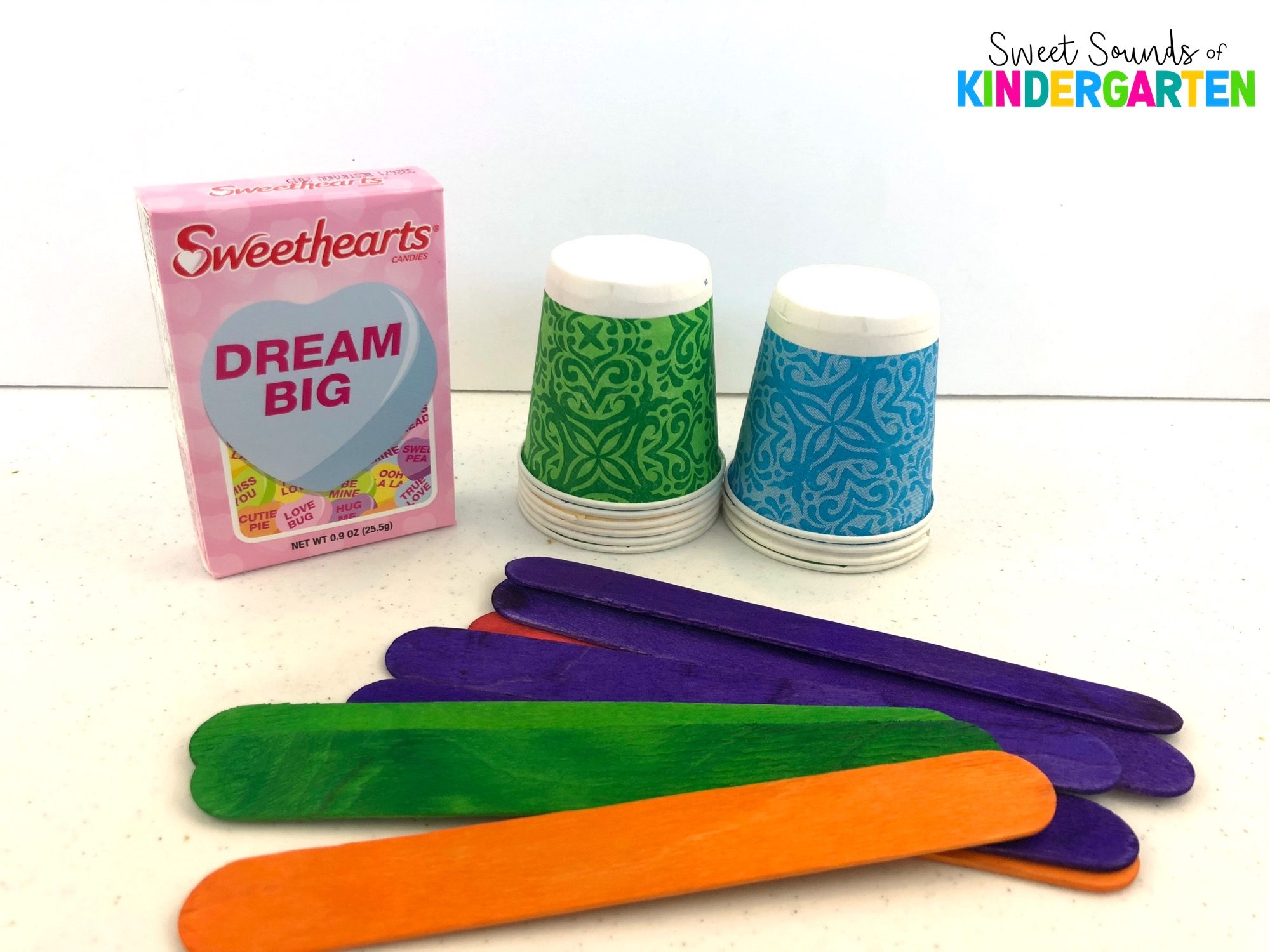 When I do STEM activities with my students, I usually have them work in either partners or groups of 3. I find that when I have more than 3 kiddos on a team, somebody tends to get "left out" and I like to make sure that all students are able to share their ideas. I gave each team ONE popsicle stick, ONE dixie cup, and ONE box of candy hearts.
OUR ACTIVITY!
The first thing that I had each group of students do was open and sort their box of hearts. Then, they filled out the first part of the recording sheet based on how many hearts were in their box, and what the colors were.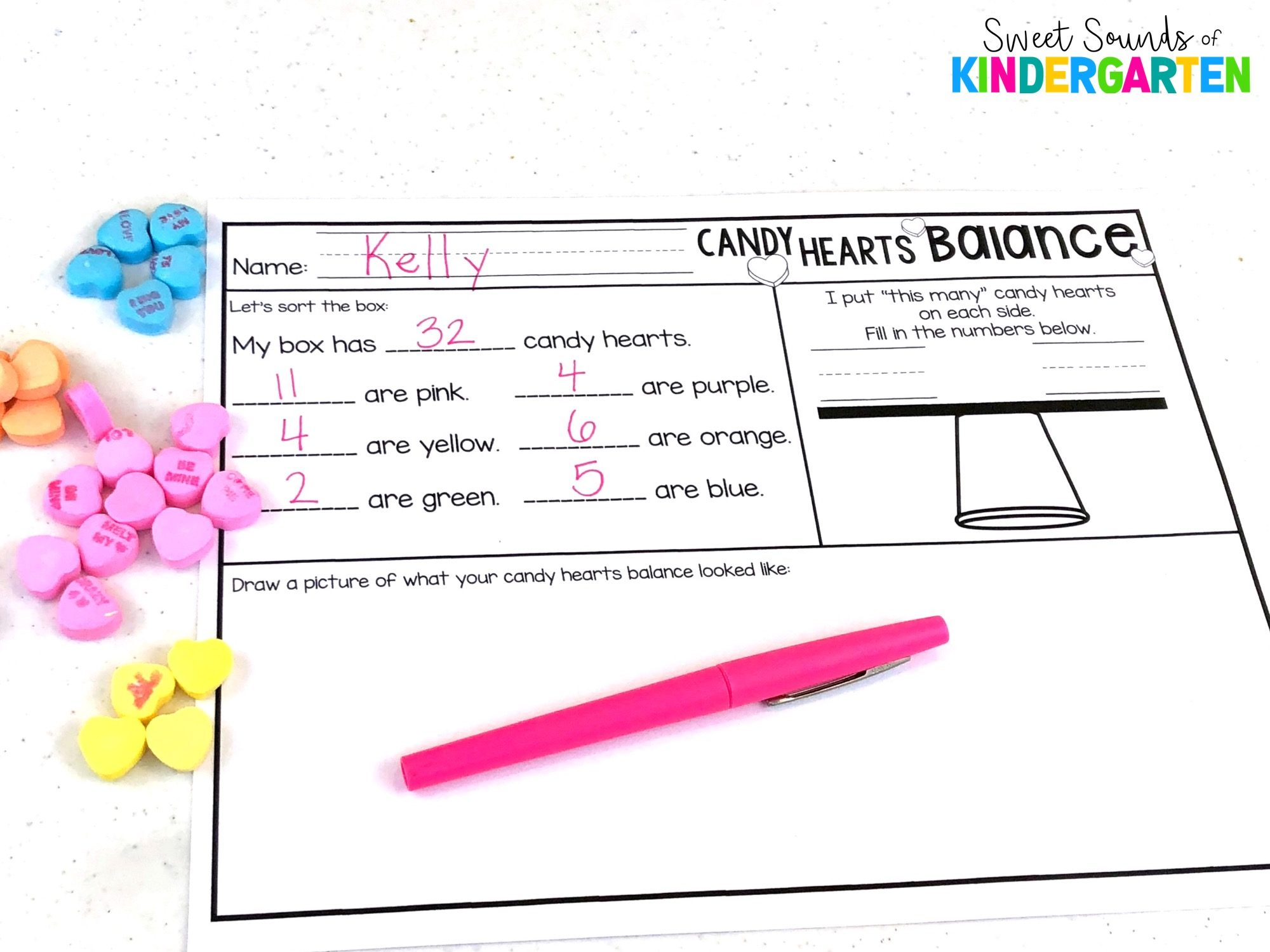 Next, we talked about the idea of what a "balance" looks like. I gave my students examples and showed them pictures of balances and even teeter totters! I also simply had groups of students stand up in the front of the room, and created a "human balance." I put a group of students on one side of me and then had the class work to put an "equal" and "balanced" group on the other side!
Then, I worked WITH the students to talk about how we could create a balance using the cup and popsicle stick. I did not just tell them at this point how it should look, but I did guide them. Then it was finally time to set up our balance.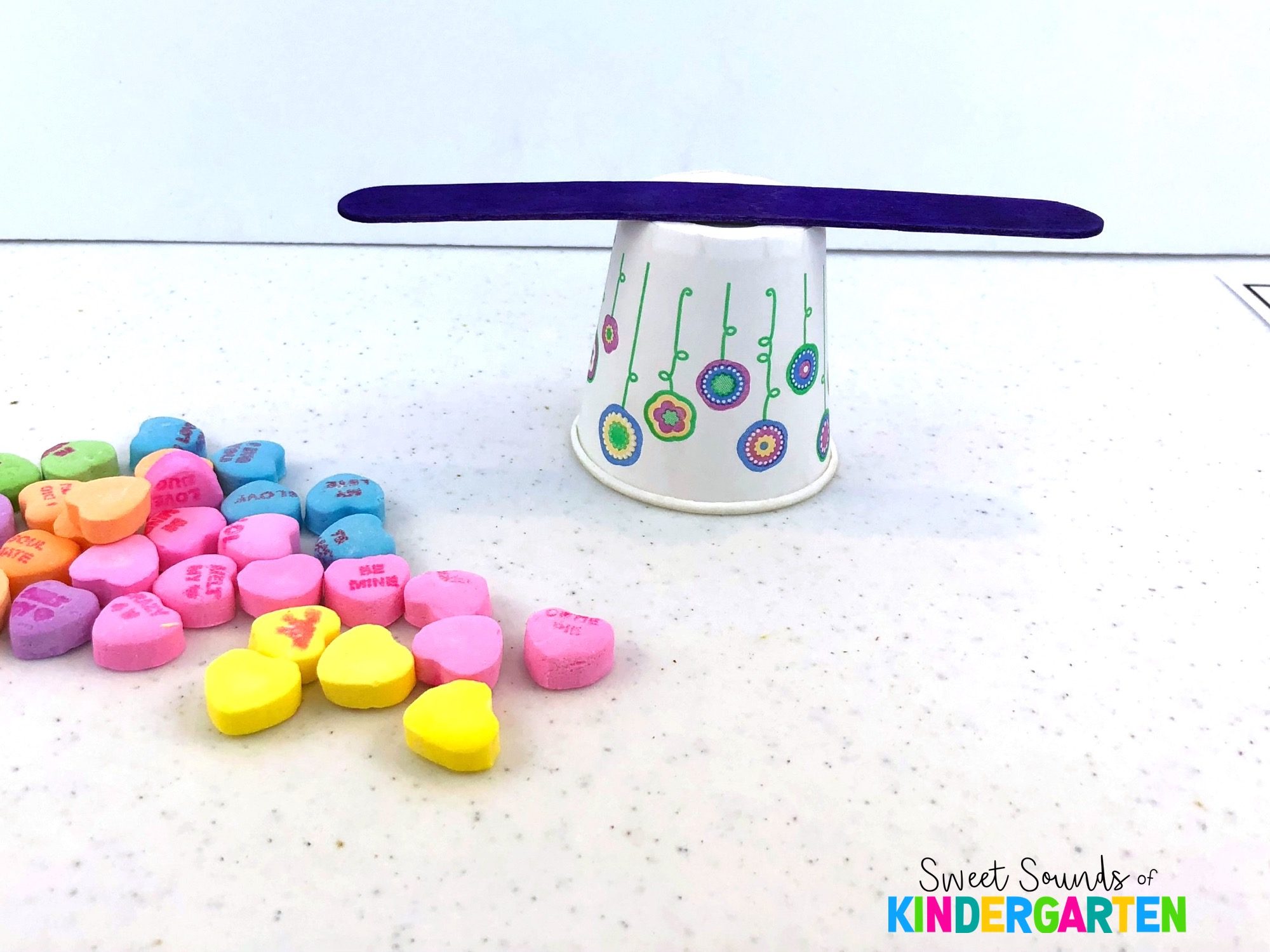 Finally, once the balances were ready, I let my groups work on balancing their candy hearts. Their goal was simply to get ALL of the hearts balanced on the popsicle stick at one time. If a group was able to do it once, I challenged them to see if they could stack their hearts higher and do it a second time! It was definitely a challenge for some groups at first to figure out they needed to keep equal amounts of hearts on either side of the stick or it would fall over!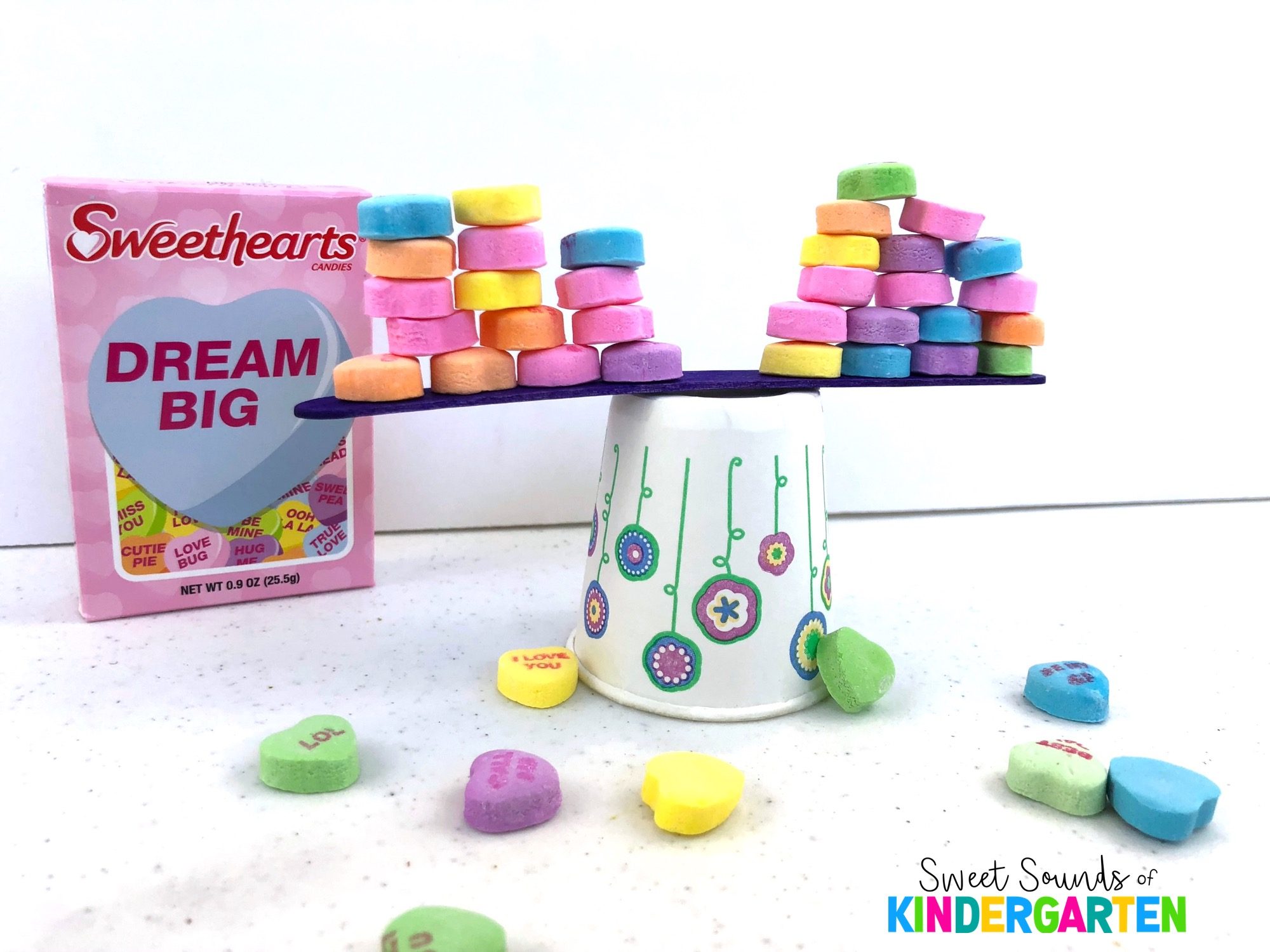 When students were finished, they completed the rest of their recording sheet and drew a picture of what their balance looked like!
And that's it!! This simple STEM activity was a blast for my students. Want to snag the recording sheet for FREE?
Click on the pink button below:

MORE VALENTINE FUN!
I LOVE doing this Valentine's Day "sweet math" activity with my kiddos to work on fact families! Click on the picture below to check it out on TPT: