Hi friends! I'm here to talk to you about my FAVORITE day of the school year: the 100th day!! If you're a K or 1st grade teacher, you know what a big deal this is for the kiddos. You count down starting from the first day of school, and then when it's finally here… it's time to celebrate!
I taught Kindergarten for 4 years, and used to have a crazy big 100th day celebration. I'm now teaching 1st grade, and the 100th day isn't quite as big of deal, but we still have lots of fun! My post will cover ideas and projects that you can use at both grade levels.

So before we get to the 100th day, we have to count down! This was my countdown chart that was part of our calendar when I taught kinder. I always used math manipulatives instead of straws: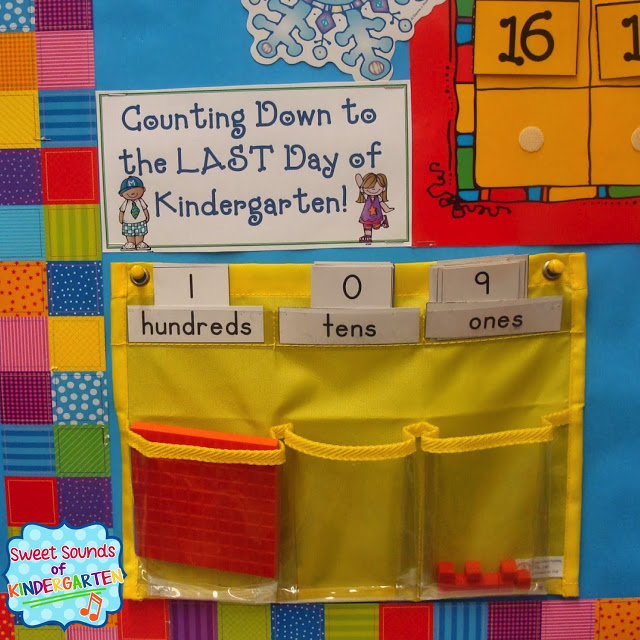 This past year, I discovered magnetic base ten manipulatives, and they are perfect for my whiteboard! This is how I count down to the 100th day in 1st grade:



On the 100th day, I like the fun to start from the minute by kiddos walk in the door! My aide and I in kinder made matching shirts with 100 buttons a few years ago: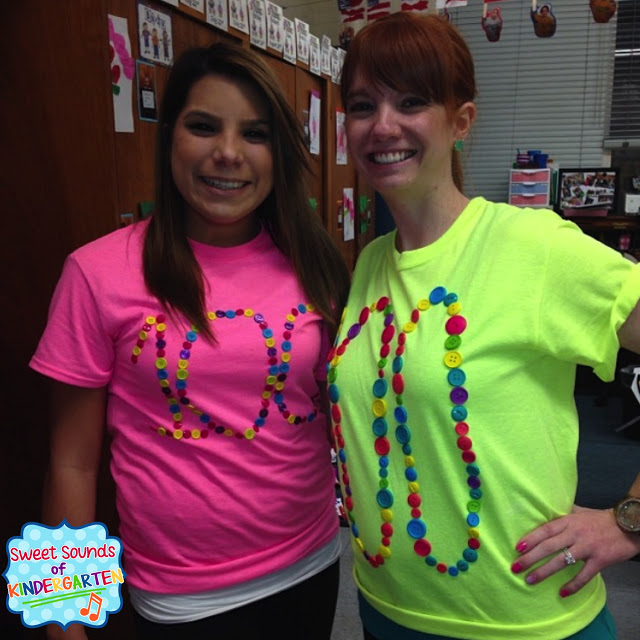 All we did was buy buttons, fabric glue, and a bright t-shirt at Jo-Ann's and we were good to go! I've even washed it (on delicate- no dryer) and have worn it again!

This next picture is one of my favorite things I did for my kinders. I used butcher paper to make a giant zero for them to walk through when they came into our classroom: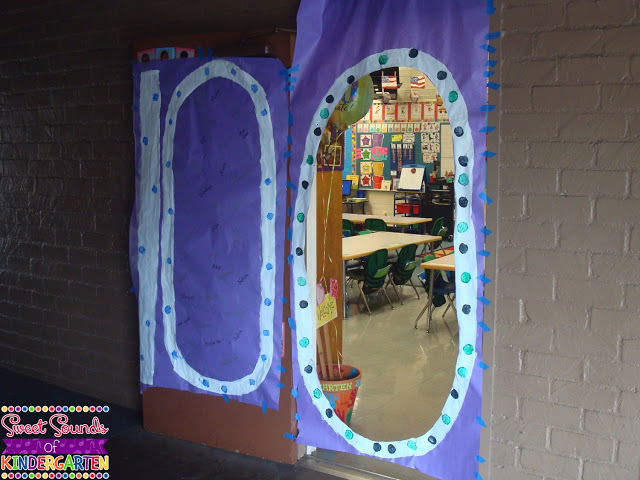 The look on their faces when they saw this was priceless. I whipped this up real quick after school the day before, so the paint is not "perfect" but my kiddos didn't mind! I had everyone sign their name inside the other zero as well. 🙂

I always have a special 100th day coloring page out on the tables for my kids to start on as soon as they arrive: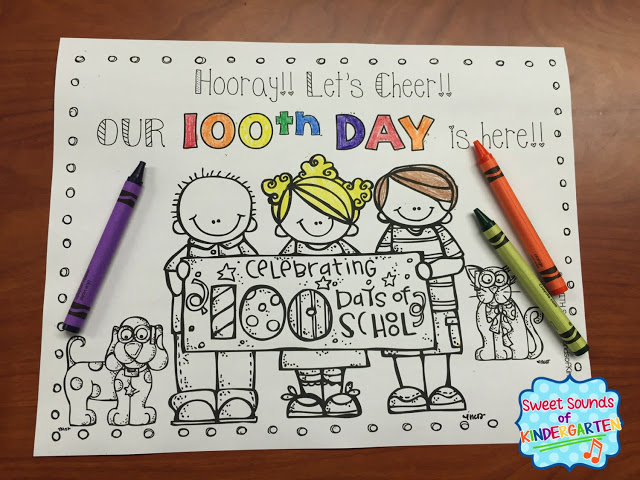 I read lots of stories throughout the day (and the rest of the week too)! Here are some of my favorite 100th day read alouds:

Happy 100th Day by: Susan Milford

The Night Before the 100th Day of School by: Natasha Wing

Miss Bindergarten Celebrates the 100th Day of Kindergarten by: Joseph Slate


Something that I used to do for my kiddos when I taught at a private school was bake cookies for them. It might seem silly, but they LOVED it. And they were so excited that the cookies were homemade. I know that many of us can't bring in homemade treats, but if you are lucky enough to be able to, it's a fun idea!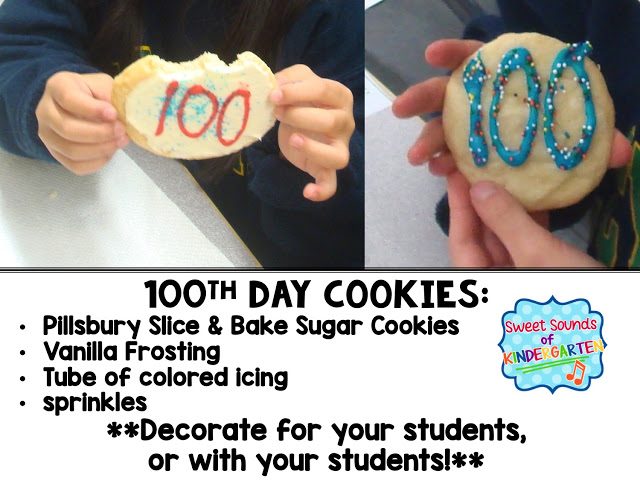 Another part of our 100th day, was making crowns: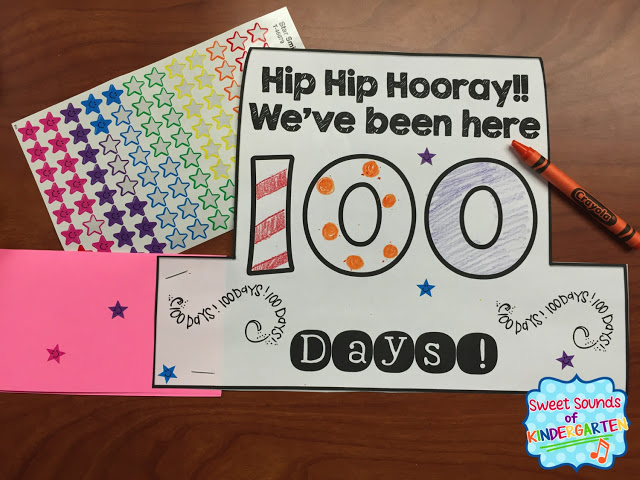 I print the front part of the crown on white cardstock, and let my kids decorate it. Then, I let them put 100 stickers on the crown and the band. Usually the packs of stickers that you buy at school supply stores come with 100 stickers on each sheet. I try to find sticker packs that are like this, so all I have to do is give each student a sheet of stickers!

Next up, we make our gumball machine craft:

My students cut out the base of the gumball machine, and glue on the little white label. Then, we staple a paper plate to the top. They get to finger paint 100 gumballs on! You can choose to have them do 10 colors with 10 dots each, OR 4 colors with 25 dots each.

It is always lots of fun: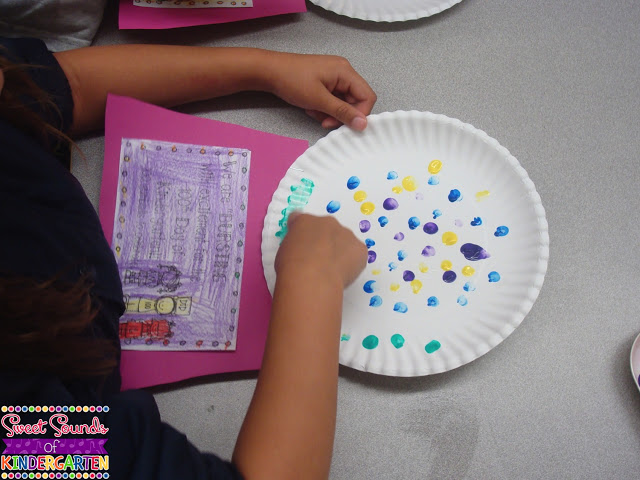 Another special part of our day is making our 100th day trail mix: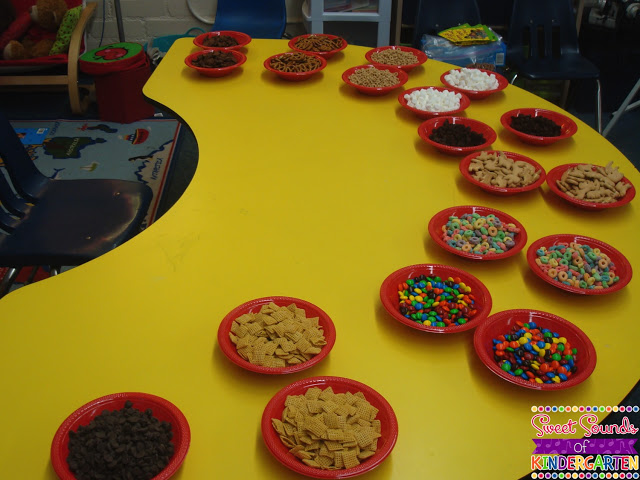 My kiddos love to count out their snack foods and make their own trail mix. Here are some of my suggested snack foods to use: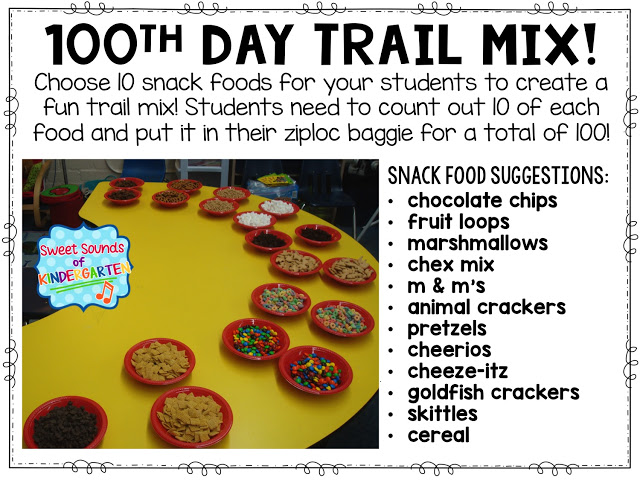 I like to send my trail mix home at the end of the day so that they can share it with their families. Many of my students will bring it back for snack the next day, which is fun!

Sometimes I will stick a cute label with their picture on their trail mix bag. It makes a nice keepsake: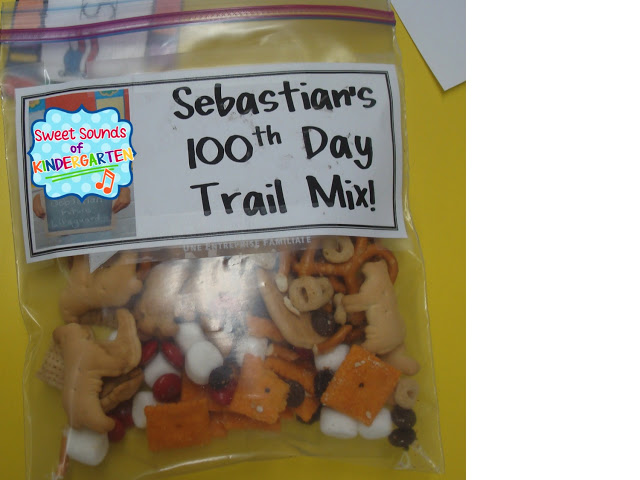 The templates for most of the projects that I talked about, as well as a few more are part of my 100th day of school pack on TPT: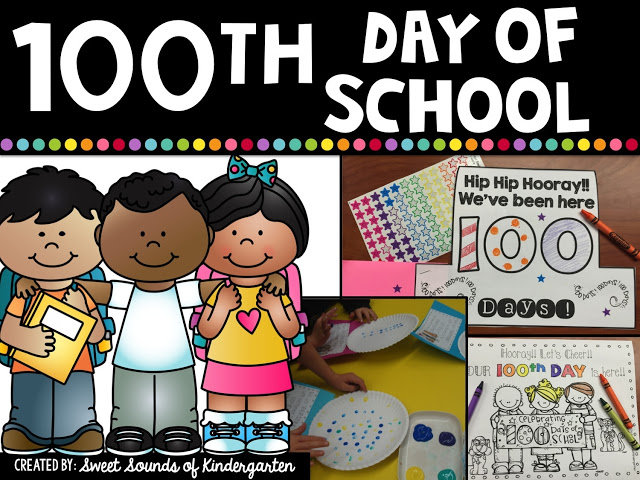 I hope that you have a happy 100th day of school with your students! I know that you will create memories for them that last a lifetime. 🙂

The fun doesn't end here though! Some of my fabulous blogger friends also have great posts for you about how they celebrate the 100th day of school! Click on the images & check them out below: