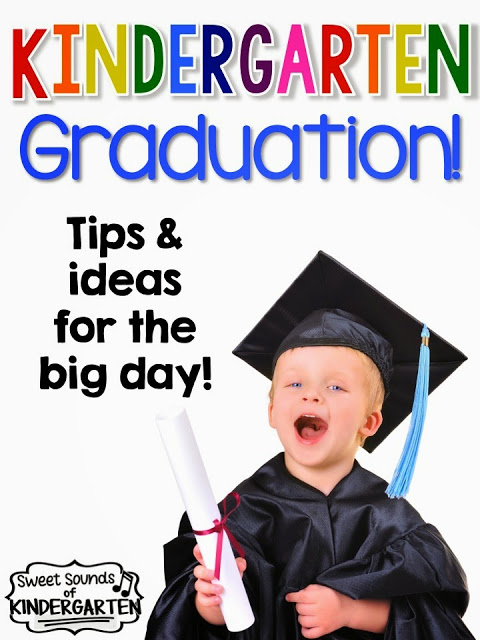 I'm here today with a post that is near and dear to my heart: Kindergarten Graduation!! This year I have been teaching 1st grade and for the first time in my teaching career, I didn't get to do one. It was definitely always my favorite event that I put on as a Kinder teacher. I would love to share some tips and simple ideas with you today to use with your own Kinder Graduation!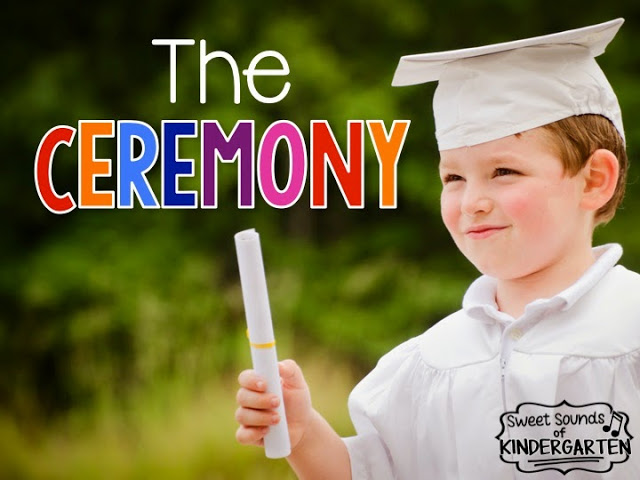 My ceremony always took place on the day before the last day of school, and was in the morning time. I had my kiddos get dropped off in the room just like it was a regular school day (even though they were in their fancy clothes,) and parents could go over to the hall to grab a seat for the ceremony. Our ceremony lasted about 40 minutes from start to finish. My old school was part of a church, so we had what we call a "Large Hall" with a stage. It was also our gym too! But, that was where we chose to have our ceremony. At my school, I called it "Kinderbration." Kiddos did not wear caps and gowns for this ceremony, as I think that it distracts them. I always had them wear fancy clothes, or "church clothes" as we called them.
Here's the general overview of what I would do:
Kiddos would process into the ceremony down a center aisle with a partner. They would walk in holding hands (so adorable) and would walk up the stairs to the stage. I would have them stop in the middle of the stage and give each other a hug or a high five before they sat down on their chair. The chairs they sat on during the ceremony were facing the audience. The song I used for the procession was: "You've Got a Friend in Me" from Toy Story. I feel it is the PERFECT Kindergarten song!! I cried every year!!

Each of my kiddos would have a line to say, or a special job during the ceremony. They would come up to the microphone and read or say their line when it was their turn. We practiced for about 2 weeks, and I would always send home the lines ahead of time so that parents could practice with them too.

The kids would open the ceremony by saying "thank yous" to their teachers, families, friends, etc…

I even would have a "Kinder Valedictorian" who would give a small speech about his/her Kindergarten memories.

During the ceremony, I would also highlight objects that were "special" to our class. Like our class teddy bear, flag, Bible, bucket (for bucket fillers), special picture books, etc… These items would be brought forward by some of my shier students and would be placed on a table right below the stage. Another student would narrate on the microphone what was being placed on the table. Here's what my table looked like: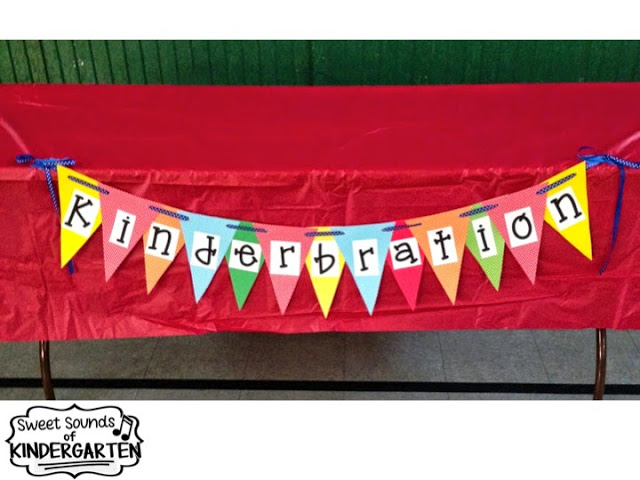 In between lines during the ceremony, we would sing certain songs that were special to our class.

Here are some of my favorites: "Letter Pops" by Dr. Jean, "Grand Ole Flag," "Awesome God" (if you are at a Religious school),"Oh What a Miracle" by Hap Palmer. I would always kneel on the floor during these songs and sing with my kids/remind them of our dance and hand motions.

I always ended the ceremony by handing out Memory Books to my kiddos. I would announce their names, and they would walk up to my principal who would shake their hand and give them their book! They would usually pose with my principal for a quick photo as they were getting the book. She was great about doing this. 🙂 More about my memory books later in this post!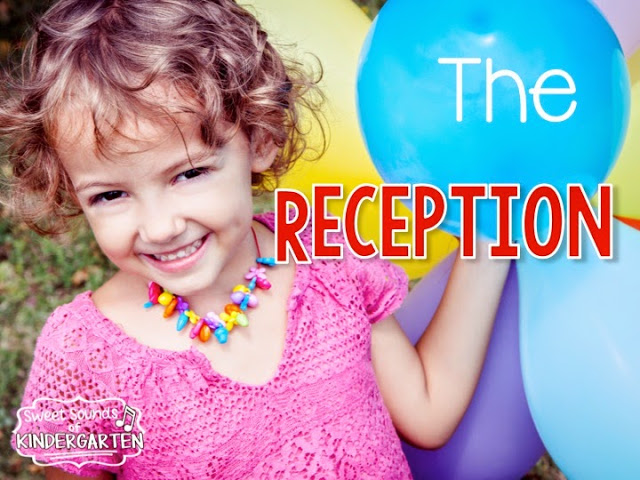 After the ceremony, we always had a small reception for families to take pictures and have a little snack with the kids. We mainly served coffee, juice, donuts, sweet rolls, and fruit.

A nice tradition at my school was that instead of the Kindergarten parents handling the reception and setting up for it, the 1st grade room parents would do it! It was definitely a weight off my mind that they took care of setting up all the food. It was also a way for the 1st grade parents to say "thank you" for last year's ceremony.

Depending on the year, sometimes I would make little centerpieces to go in the middle of the tables, and sometimes I would have a parent volunteer to do it for me.

I always had pictures of the Kinders up around the room, and a picture frame of the class on each table. I also had an additional gift for each child out on two or three long tables around the room for them to pick up as they were leaving.

My gift to the kiddos included: their writing folder, and art portfolio, and a DVD slideshow of pictures from the year. If you have a Mac, this is SUPER easy to do with iPhoto and iMovie. 🙂 Also included for each student was a picture frame that they had made in class. Inside the frame, I put a picture of them with our special class teddy bear so that they would never forget him. More about the frames later!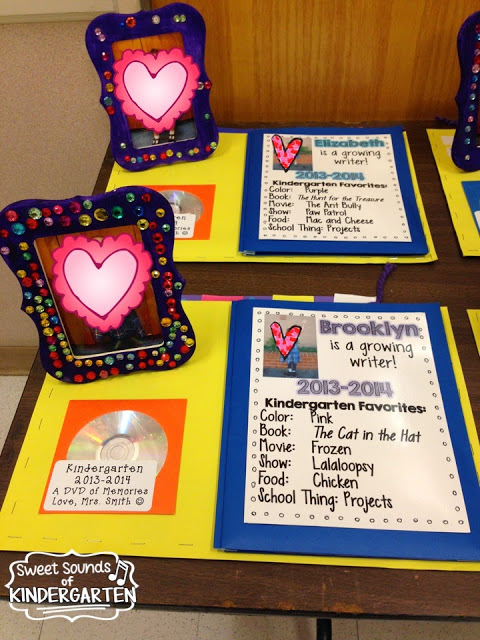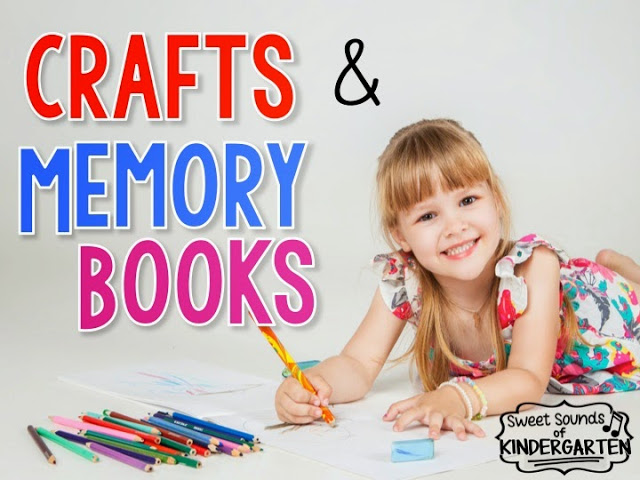 The last month of school, I start putting together memory books for my students. These are the books that they would receive during the actual "Kinderbration" ceremony from the principal. The books basically include a monthly glyph or art project. My lovely aide and I would back each project on a 12″ x 12″ piece of card stock or construction paper.
Here is what the cover of their book would look like: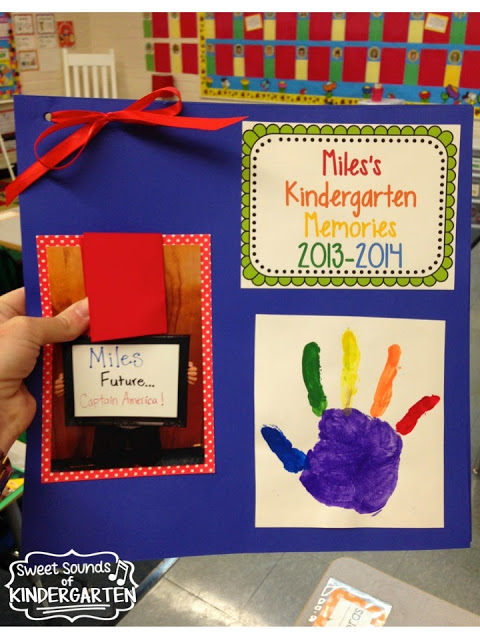 On the cover, I included a picture of each student holding a whiteboard that said their name and what they wanted to be when they grow up!
I also did each child's handprint. I like doing handprints rainbow style like this: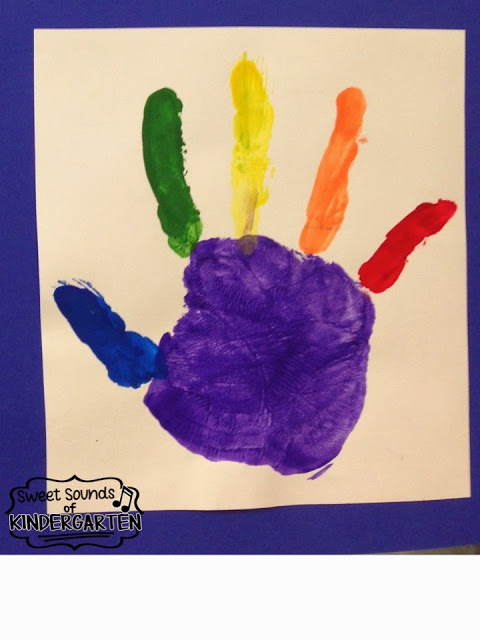 During the reception, I had picture frames on display that the kiddos had made. We also painted these during the last couple weeks of school. This makes for a great filler activity, and was always really fun for my students. The frames were $1 at Michaels Craft Store, and we just used regular acrylic or craft paint. I always let my kids glue rhinestones on the next day after the frames were dried. The rhinestones stayed on with just regular Elmer's white glue. 🙂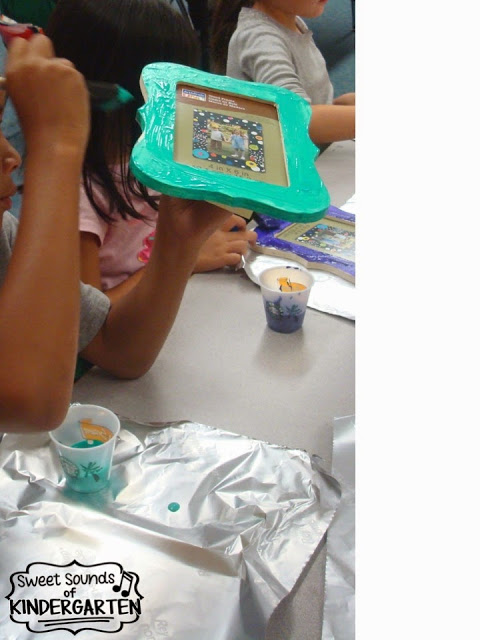 Kiddos get to write about a time that they shined during the school year. They also get to draw and write about what they think next year will be like. The kid's pictures go on the star. I thought that these would have been AWESOME to have on display during the Kinderbration Reception, or even out on the tables. This craft is perfect for the End of the Year, and even Back to School too. 🙂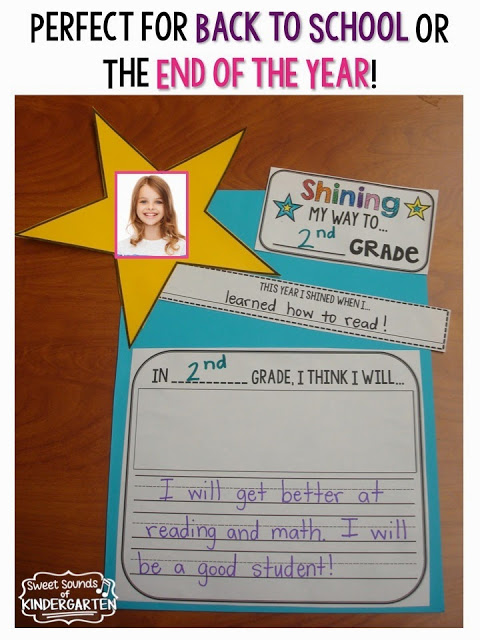 Check it out here in my TPT store: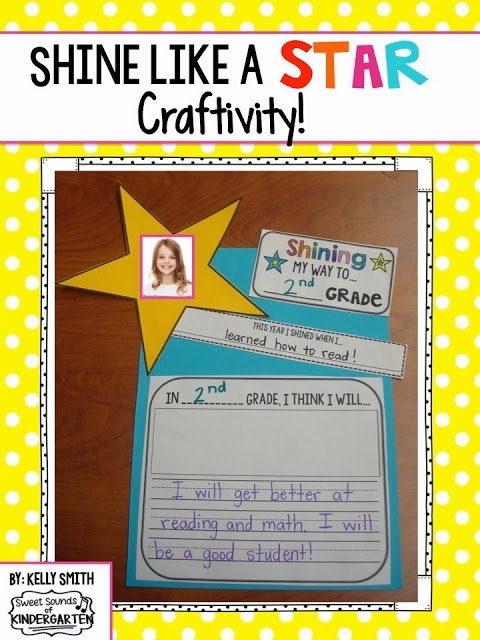 Thanks so much for stopping by today! I hope you got some great ideas that you can use. If you have any questions, feel free to email me: sweetsoundsofkindergarten@gmail.com.
Happy end of the school year, friends!