Welcome to my blog!! I am excited to get started in the wonderful world of teaching blogs! While I still have a lot to learn, I wanted to be able to start sharing some of my ideas & resources that I use in my own classroom! 🙂
Thanks for stopping by! Enjoy!

Yesterday I did my first class graphing activity with my Kindergarten class. I was nervous to try this lesson with my kiddos, as I usually save this graphing activity for later in the school year, but I decided to give it a try!
I try to do a graphing activity with my kids once a month to give my kids a chance to share their opinion about a topic and also practice their graphing and number skills!

I proposed this question to my kids for our Halloween graph:
"What is your favorite part of Halloween?"
Kids were allowed to choose from the following choices:
Eating Candy, Reading Spooky Stories, Trick-or-Treating, or Carving Jack-o-lanterns. Kids voted for their favorite part of Halloween by putting their picture under the correct column on a pocket chart!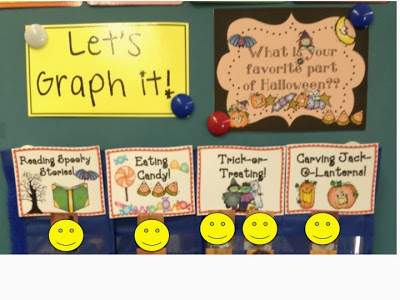 When everyone has voted, together we fill out the class data sheet to summarize everyone's opinion! Kids have to make a bar graph, count how many kids are in each column, and make tally marks to represent the data.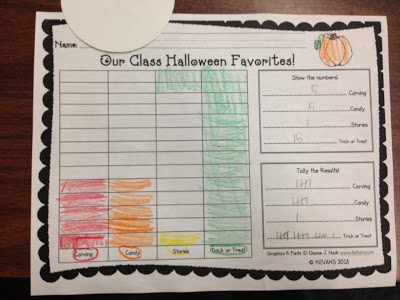 The kids had so much fun with this project, and are already talking about next month's graph! I leave the monthly graph up at all times for the kids to see. The kids love any chance to see pictures of themselves! 🙂
Thanks for visiting my blog! Stop by again soon. 🙂