This week in Kindergarten we read one of my favorite children's books: Big Pumpkin, by Erica Silverman. I love using this book with my kids, as there are so many literary elements that can be taught while using this book! The text of the repeats and rhymes, and the kids get so excited to say parts of it outloud with me while I read it.
One of the best parts (I think!) about the book is that there is an awesome song that goes with the book! It's literally someone reading the text, but in song form. Now, I remember having the song on a cassette tape when I was a kid, but I can't find it anywhere now other than Youtube… so.. ta da!! That's what we used in class. I read the book to them on Monday, and then on Tuesday they got to listen to the song version, and it was quite a hit!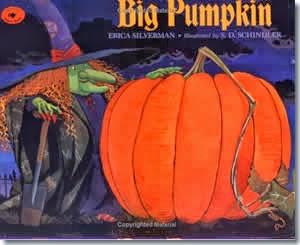 As we studied the book this week, I decided to focus on a different literary element with my kiddos each day. I also created a worksheet for the kids to do to help them respond to the book!
The first day, I simply let the kids choose their favorite part of the story and draw a picture.
The next day, we discussed the different characters in the story. I taught the kids the difference between a main character and a regular character by talking about the witch in the story and the other characters that help her!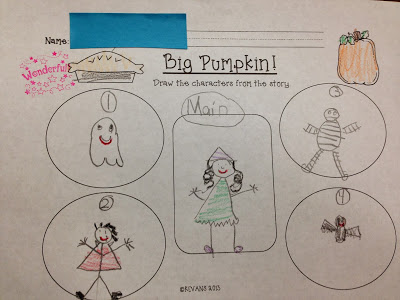 The next day, we talked about sequencing! The kids recalled the order that the characters came to help the witch pull the pumpkin off the vine. They completed a fun cut and paste worksheet together: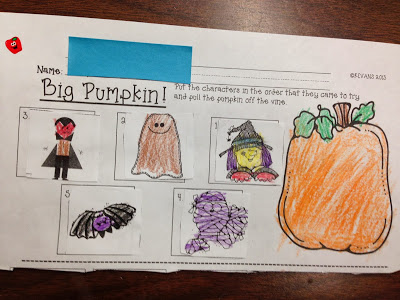 Tomorrow we will finish our study of Big Pumpkin by talking about who the "hero" of the story is! One of the characters at the end, figures out that by working together, they can all pull the pumpkin off the vine! Which is yet another great quality of the book! It ends on such a positive note. 🙂
The worksheets shown here and others are available as part of my
Click the picture to check it out!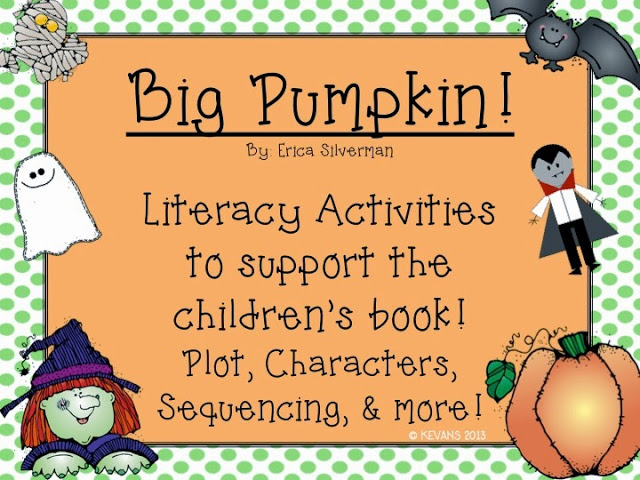 Thanks for stopping by!!
It's almost Friday!!!!!
Happy Weekend 🙂
-Kelly